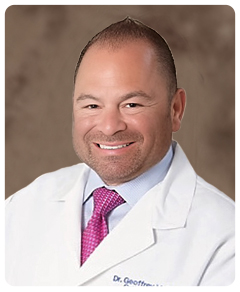 Dr. Geoffrey M. Glick joined the practice in 2004 and became Dr. Starr's partner in 2009. Dr. Glick has been the managing partner of Starr and Glick Orthodontics since 2010. Dr. Glick grew up in Brookline and attended The Park School and Belmont Hill School before receiving a B.A. in clinical psychology from Tufts University in 1994. From there, Dr. Glick earned his Doctorate of Dental Medicine (D.M.D.) from the University of Pennsylvania in 1998. While at Penn, Dr. Glick distinguished himself as a leader by providing complimentary dental care to underprivileged inner city children and needy senior citizens. At graduation, Dr. Glick was presented with the prestigious Pennsylvania State Dental Society Award, which is awarded annually to one senior student for "outstanding work" during his 4 years of dental school.

In 1999, Dr. Glick completed a General Practice Residency in Dental Medicine at MCP-Hahnemann University in Philadelphia. Dr. Glick then returned home to Boston for his orthodontic specialty training at the Boston University Goldman School of Dental Medicine. In 2002, Dr. Glick completed a three-year joint masters and certificate program in orthodontics that incorporated basic scientific research with clinical orthodontic training. Dr. Glick was awarded his Masters of Science in Dentistry (M.S.D.) and his Certificate of Advanced Graduate Study (C.A.G.S.) in Orthodontics and Dentofacial Orthopedics. His Masters thesis, which was entitled "Shear Bond Strength of Orthodontic Bracket and Adhesive Materials to Porcelain Restorative Materials," was awarded highest honors.
In addition to practicing in Medfield, Dr. Glick maintains private practices in Boston, Waltham and Pepperell. Dr. Glick treats patients of all ages and has become one of the world's leading practitioners of Invisalign® orthodontics. Invisalign® has recognized Dr. Glick as an "Elite Preferred Provider," placing him in the top 1% of all Invisalign® doctors worldwide. He is only one of a handful of doctors to have achieved this status in New England. He has treated over 1,200 patients with Invisalign® and Invisalign Teen® and his Invisalign® patients have included members of the World Champion Boston Celtics, players and cheerleaders from the Super Bowl Champion New England Patriots, and the Miss USA and Miss Teen USA pageant winners from Massachusetts, New Hampshire, Connecticut, Maine, and New York. As a partner of ClinReview Consulting Services, Dr. Glick mentors and educates less experienced Invisalign® doctors by assisting them with their own cases. This experience has allowed Dr. Glick to treat even the most complex cases with Invisalign®.
Dr. Glick is a proud member of the American Association of Orthodontists, the American Dental Association, the Massachusetts Association of Orthodontists, the Massachusetts Dental Society and the Metropolitan District Dental Society.
Dr. Glick and his wife Nicole, a clinical psychologist, live with their children Jason and Alexa and their cats Ziggy and Gizmo. When he is not focused on orthodontics, Dr. Glick spends his time obsessively following his beloved Bruins, Celtics, Patriots and Red Sox, listening to rock music, attending concerts, playing fantasy sports, skiing and traveling.