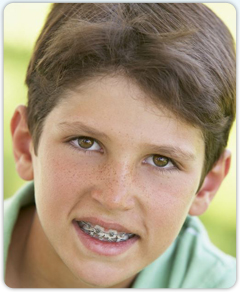 Our greatest goal is to give you the healthy, straight, beautiful smile that you've always wanted. We understand that choosing to receive orthodontic care is a big decision, and we respect your reasons for wanting to improve the way you look and feel. Our practice will work with you every step of the way to make sure that your orthodontic care is as rewarding as possible. Our practice utilizes the latest technology, offering a variety of safe and gentle treatment options to give you the customized, individual care you deserve.
Every smile starts with an initial consultation:
Your first visit to our office will be for an initial consultation. This is a very easy appointment and it gives you the opportunity to meet with one of our doctors and treatment coordinators to discuss your smile. Please be sure to fill out the patient information and medical history form before coming to your appointment. At this appointment, the doctor will perform a complete orthodontic exam. A digital Panoramic x-ray and photographs will be taken. If you have had a recent (not more than 6 months old) Panoramic x-ray taken by your general dentist, please be sure to bring it with you to the appointment. This x-ray is essential for the doctor to be able to assess the positions of teeth that have not yet emerged and to make sure that all teeth are accounted for. After completion of the exam and a careful review of the x-ray and photos, the doctor will be able to discuss the general nature of the orthodontic problem (if any) and options for treatment. We will be able to answer many questions that might concern you, such as:
Is orthodontic treatment necessary?
When should it be started?
How long will treatment take?
Can my case be treated with Invisalign®?
What is the approximate cost?
How much is covered by my insurance?
Can I use my Flexible Spending Account for this?
If it seems like orthodontic treatment is indicated, we will finish the appointment by taking one more x-ray called a Cephalometric x-ray and study model impressions. These additional records will allow the doctor to further study your case and finalize a treatment plan.
What Happens After The Initial Consultation
You will be invited back for a Conference appointment 2-3 weeks after the initial consultation to review the final treatment plan. This time allows for our doctors to collaborate on treatment planning your case. The Conference appointment is a great opportunity for both parents to attend and have all questions answered. The Treatment Coordinator will work with your schedule to set up the appointments needed to begin treatment.
What If My Child Is Not Ready To Start Orthodontic Treatment?
Many times, a patient is not ready to begin orthodontic treatment at the initial consultation, but it is clear that treatment is indicated in the future. We feel strongly that these patients should see us once every 6 months for a quick observation appointment so that we can monitor tooth development and jaw growth. Since tooth development and jaw growth can change rapidly in young children, this continued protocol by our doctors allows us to better time the initiation of treatment, minimize permanent tooth extractions and impactions and obtain better results.
Initial consultations, diagnostic records, conferences and observation appointments are ALWAYS COMPLIMENTARY in our practice. No fees are incurred until actual treatment is rendered.
Starting Treatment!
In most cases, several appointments are needed to get your orthodontic treatment started. The following is a brief overview of the appointments needed:
Braces Patients
Most patients who get braces need to come into the office for a quick visit about a week before the big day to have separators placed. The separators appointment is very quick and you will typically be in and out of the office in 10-15 minutes. Braces are placed in the morning and we generally reserve 90-120 minutes for you. This gives us enough time for one of our doctors to accurately place your braces and to review all of your home care instructions with you and your parents. In some cases, appliances such as a Modified Nance or a Lingual Holding Arch are needed to supplement your braces. These will typically be inserted several weeks after the braces are placed.
Invisalign Patients
There are three startup appointments needed to begin Invisalign® treatment in our practice. At the first appointment, your teeth will be scanned with our high-tech iOC Scanner® and your case will be sent off to Invisalign®. The whole process should not take more than one hour and we schedule this appointment in the morning. Approximately four weeks later we will have you return to review your ClinCheck® (digital video of how your teeth will move) with us for about 30 minutes. Once you have reviewed your ClinCheck®, we go ahead and authorize Invisalign® to manufacture your aligners. Three to four weeks later you will return to receive your aligners. At this morning appointment, any required attachments will be placed and we will review home care instructions. This appointment generally lasts for one hour.
Patients Receiving Treatment With Other Appliances
For patients whose orthodontic treatment begins with an appliance other than braces or Invisalign®, the initial appointments typically involve taking an impression for an appliance and inserting it a few weeks later. Prior to taking appliance impressions, patients need to come into the office for a quick visit about a week before to have separators placed. The separators appointment is very quick and you will typically be in and out of the office in 10-15 minutes. Most of the appliance impression and insertion appointments are 30-60 minutes and are generally scheduled in the morning.
Scheduling Regular Appointments
For patients with braces or appliances, visiting the orthodontist about every eight to ten weeks is an important part of your orthodontic treatment. For patients with Invisalign®, a trip to our office once every ten weeks or so will help us make sure that you are on the right track. Our practice will work with you to make sure that your appointments are as convenient as possible. When scheduling appointments, please let us know what days and times work best for you. Please note that we will do our best to make these scheduled appointments after school, but we cannot guarantee that every appointment will be scheduled at these very popular times.
We understand that "life happens!" If you're running late or need to reschedule, please let us know and we will do everything we can to accommodate you.
Emergency Appointments
It is not uncommon for problems to arise with your braces, appliances or aligners over the course of your orthodontic treatment. Wires poke, braces and bands get broken off teeth, aligners crack and attachments break. Most of the time, we are able to schedule patients for repairs at a time that works best for their schedule. However, there are times when a particular date or time has already been reserved for other patients and it can be challenging to squeeze emergencies into those times. We have designated emergency times each morning from 10:30-12:30 in order to properly repair any broken braces or appliances. If those times do not work for your schedule on that day, we will try to squeeze you in and do our best to manage the emergency. Please note that we will make sure that nothing is poking or bothering the patient, but we will most likely not be able to fully repair whatever is broken at that time.
Visiting the dentist during orthodontic treatment
It is very important that you continue to visit your family dentist once every six months, even during your orthodontic treatment, for teeth cleanings and routine dental checkups. If extra dental care is needed, we will be happy to coordinate with your family dentist to make sure that you are receiving the best care possible.